Dans le cadre du projet européen Boost4health, notre partenaire Oost NL organise un webinaire sur l'écosystème de la santé et des technologies médicales aux Pays-Bas (Est). Si vous souhaitez en savoir plus, inscrivez-vous au webinaire le 13 juillet à 10h !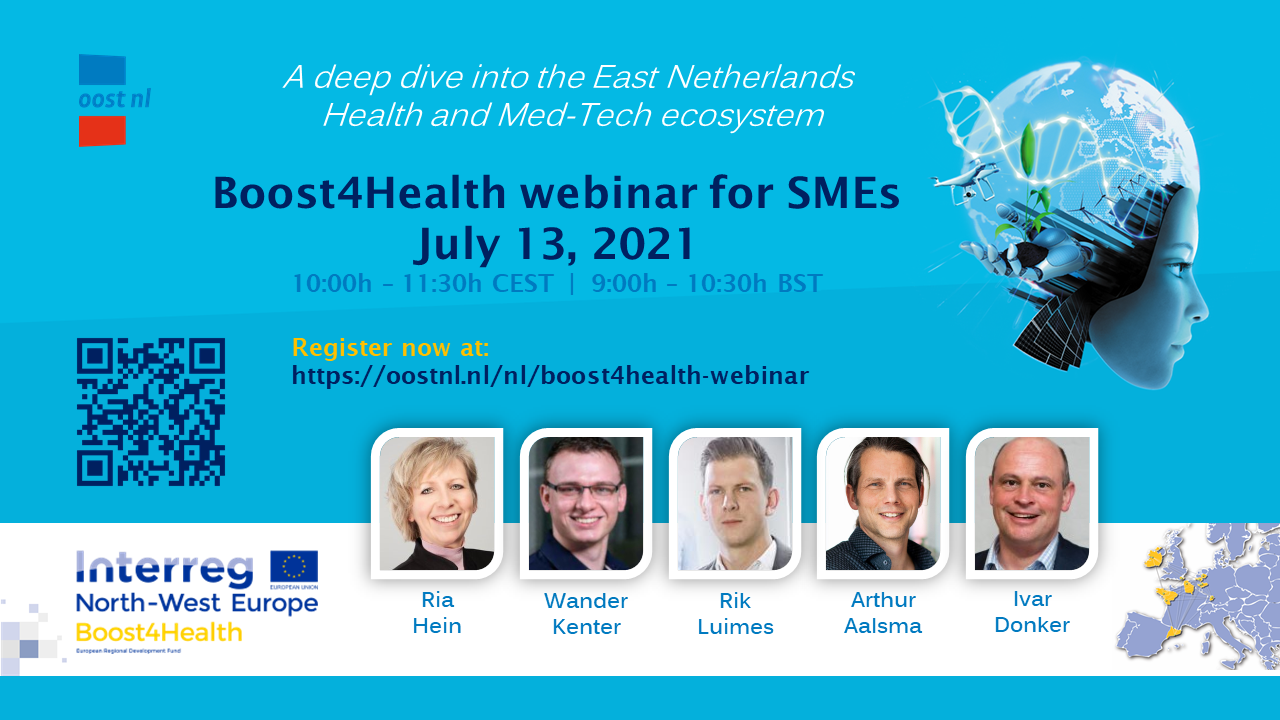 The event is targeted at Life Science and Health SMEs and at Service Providers who provide expertise to life science SMEs in the seven partner countries.
Learn more about Boost4Health.
This event is part of the Boost4Health Capitalisation Phase.
The Boost4Health project supports Life Science and Med Tech SMEs with international collaborations while also enabling these companies to find and access the best experts and facilities to advance their international growth potential. The project opens up foreign markets to service providers and contribute to the growth of the North West European life sciences network. Boost4Health is an initiative of 11 international partners located in the UK, Belgium, France, Germany, Ireland, Spain and the Netherlands.
Program
Speaker: Niek Wellink, Oost NL, Boost4Health project partner
10:05 CEST: Overview of Interreg NWE Boost4Health
Speaker: Ria Hein, BOM, Lead Partner Boost4Health
The partnership, vouchers for Irish and European SMEs, opportunities for service provision, coaching opportunities for SMEs.
10:15 CEST: Introduction to the East Netherlands Health and Med Tech Ecosystem
Speaker: Rik Luimes, Advisor Health International Oost NL
Sector strengths, key players, opportunities for SMEs, service providers in the region and what East Netherlands can offer SMEs.
10:25 CEST: Healthcare and Med Tech
Speaker: Wander Kenter, Programme Manager Sustainable Healthcare Technology
The Technical Medical Centre (TechMed Centre) is a leading Innovation Hub impacting healthcare by excellent Research, Innovation and Educational programmes. 
10:35 CEST: Q&A
10:40 CEST: SME showcase BAAT Medical BV
Speaker: Arthur Aalsma, Director R&D
BAAT Medical is the leading independent Medical Product Development Company in Europe for the Orthopaedic, Trauma and Spine Medical Device Industry.
10:50 CEST: SME showcase Relitech
Speaker: Ivar Donker, co-owner
Relitech develops high-tech solutions for 3rd parties in the Medtech industry.
11:00 CEST: Q&A
11:05 CEST: 30 second pitches from SME participants
11:30 CEST: End
Register
To register, please click here.