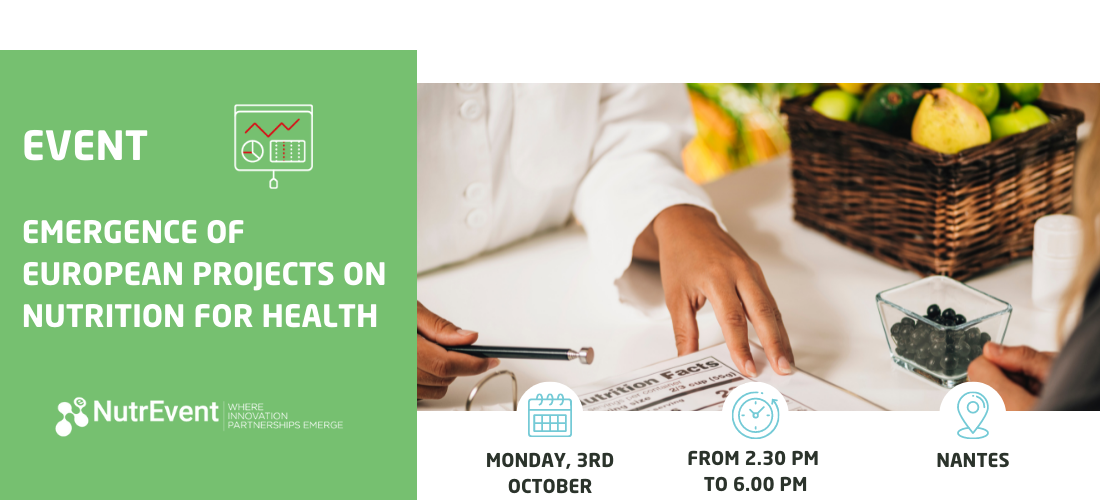 La veille de NutrEvent 2022 – première convention d'affaires européenne dédiée à l'innovation en Alimentation, Nutrition et Santé humaine et animale, venez découvrir le programme Horizon Europe et les thématiques spécifiques des prochains appels à projets en nutrition. Participez ensuite aux groupes de travail pour mieux comprendre les attentes des appels à projets et rencontrer vos futurs partenaires !
———————————
The NutrEvent partners and The Hub Europe of the Pays de la Loire Region have the pleasure to invite you to a project building workshop on Horizon Europe calls relating to
Food, Feed, Nutrition and Health.
The day before 
NutrEvent 2022
, the first European business convention dedicated to innovation in Food, Feed, Nutrition and Health, come and discover the Horizon Europe program and the specific themes of the next calls for projects in nutrition.
Then take part in the working groups to better understand the expectations of the calls for proposals and meet your future partners!
PROGRAM OF THE EVENT
(all the sessions will be in english)
2.30pm : Welcome coffee
3:00 pm – 4:00 pm Plenary session 
Welcome and introduction by the Regional Vice-president for Higher Education, Research and Innovation Mrs Samia SOULTANI-VIGNERON.
Presentation by Virginie SIVAN NCP France Health and Mathias LUCAS NCP Wallonia: of the Horizon Europe program and clusters 1 « Health » and 6 « Food, bioeconomy, natural resources, agriculture and environment".
Sharing of experience by Sophie LELIEVRE, researcher at the Institut de Cancérologie de l'Ouest-ICO (Angers) on the project ADADAPRE-IMPACT : Advances in Dietary interventions among Adolescents as Prospects to Decrease Aging and Redox Events, led by International, Multidisciplinary and Participatory Academic and Community Teams.
>>> Break and split into working groups as registered <<<
4:15 pm – 5:30 pm Working groups 
Concrete cases – methodology and points of attention on the reading of a call for projects targeted in advance, topic to choose between:
1.    Personalized prevention of chronic diseases
2.    Microbiome
3.    New healthy and sustainable foods and processes
4.    One health
Networking
6pm Closing of the event
Deadline to register: September 26, 2022.
Location : Hôtel de Région Pays de la Loire, 1 rue de la Loire – Nantes
NutrEvent 2022 Side Event : The first European business convention dedicated to innovation in Food, Feed, Nutrition and Health
Workshop proposed within the framework of the dynamics of the networks of support to the European projects: